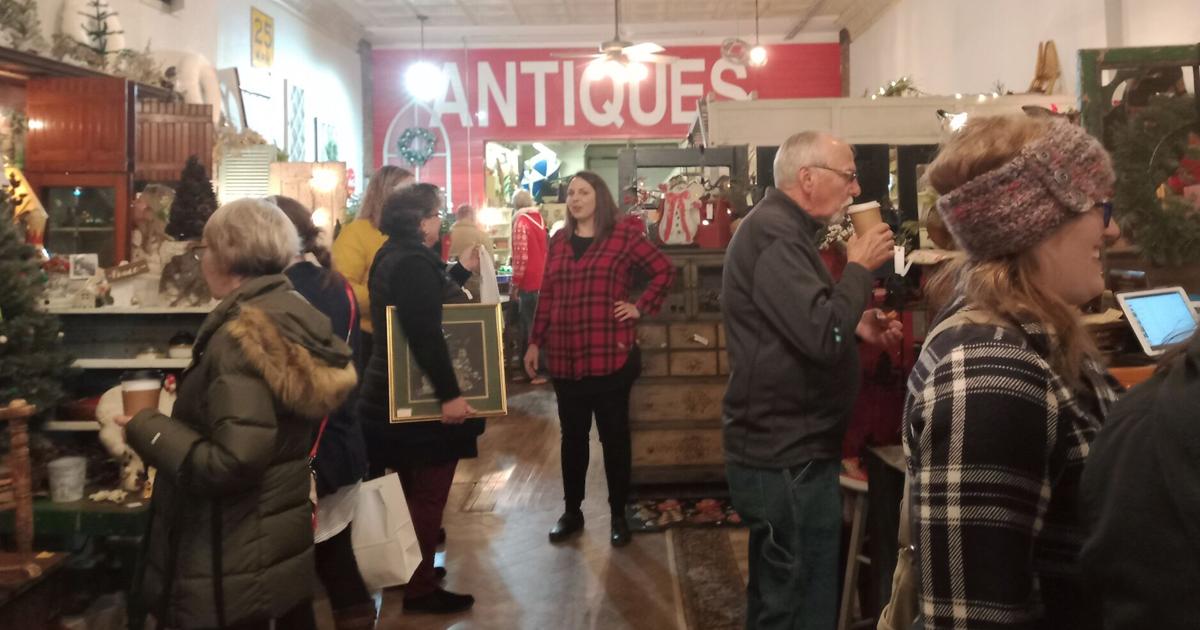 Small traders welcome customers looking for unique gifts | Local News
Becky Gilbertson made her first find at the Pond Road Holiday Market.
A sign with red glitter words that says, "When you stop believing in Santa Claus, you get underwear" is a perfect gift for her sister, Gilbertson decided.
Gilbertson, from Mankato, and Sam Vogel, from Eagle Lake, came to Old Town with hundreds of others Saturday morning in search of unique holiday gifts.
The Saturday after Thanksgiving has become known as Small Business Saturday – a shopping day promoting small local retailers.
"I wanted to shop small," Vogel said. "I haven't visited many of these stores yet so wanted to see what they had to offer."
Gilbertson decided that buying some of her gifts from local businesses was a way for her to support her community after what has been "a tough year for all of us."
Shopping in person instead of her usual online shopping also has another benefit, Gilbertson said: there's no risk her gifts won't arrive on time.
The Pond Road Holiday Market is a pop-up store selling vintage and new gifts from 11 consignment vendors. The market is usually only open a few days a month on a rural property outside of Mankato. When a storefront opened in the Old Town, market owner Cheryl Hamond decided to fill it until at least January. She plans to stay long-term if the trial goes well.
Saturday's traffic was even busier than she had hoped, Hamond said.
"We've had a lot of support from the community and we're so grateful for that," she said. "When they support us, they support 11 different vendors who are also small businesses."
In North Mankato, Aspen Arbuckle also has a new business venture and hopes people will choose to shop locally during gift-giving season.
Five weeks ago, the Eagle Lake native opened a second location of her Summer's Haven boutique. Commerce Drive's new store sells home decor, apparel and gifts.
Arbuckle has a shop in his adopted home of Elko New Market and has decided to open another in his hometown.
Arbuckle is among many local businesses offering deals this weekend in hopes of competing with big-box stores.
Sales have so far met her hopes, she said. Many of his new customers discovered the store on their way to or from a thrift store or a Chinese restaurant in the same mall.
"There is good foot traffic," she said.
Busier Friday
Some Old Town shop owners said they were actually busier on Black Friday than on Small Business Saturday.
Bella Nova Boutique owner Brenda Sanderson said many customers said they changed their routine in hopes of missing the crowds and reducing their exposure to the coronavirus. They chose to shop small on Friday and waited until Saturday to hit the big box stores.
Tune Town is traditionally busier on Fridays, as that's when independent record stores across the country release a slew of new vinyl and CD releases that can't be found at major retailers.
The new releases didn't go on sale until 8am on Friday, but Tune Town owner Carl Nordmeier said there was already a queue when the store opened at 6 hours of the morning. By 3 p.m., they had already broken last year's Black Friday sales record, he mentioned.
Tune Town lured in more customers on Saturday by offering a 50% off all used music and DVDs. Nordmeier predicts that Christmas Eve will again be as busy, if not busier, than Saturday with last-minute gift shoppers.
New campaign
Visit Mankato and City Center Partnership launched a new Kato Local Holiday Experience campaign this year.
The 10-day event aimed to be more inclusive than other small-store campaigns, organizer Courtney Malone said.
While other efforts focus on smaller retailers, Malone said Kato Local is open to local businesses of any size offering products or services.
For a few dollars, businesses were listed on katolocal.com and in a printed passport customers can pick up at all participating businesses.
They could also put a coupon or other promotion in a "gift bag" provided by Community Bank and each participating business received a set of bags to distribute to their customers.
Supply chain
A few store owners have reported additional difficulties in acquiring inventory this season due to pandemic supply chain bottlenecks.
Nordmeier started stocking turntables weeks ago to prepare for the holiday rush. He had less luck acquiring high-demand vinyl albums. And special orders requested by customers now typically take a month to arrive instead of a week.
"They're probably stuck on a ship somewhere," Nordmeier said.
Arbuckle said she had no trouble reselling the goods she bought, but was hit by a noticeable increase in the price of lumber. She makes tables, welcome signs and other decorations by hand.
Dork Den owners Greg Fenske and Joe Huber said plastic card protectors and cardboard game storage boxes are hard to come by these days, and all Pokemon are still flying off the shelves.
But the shortages were actually more severe for them at the start of the pandemic. Demand was high as people sought home entertainment during the shutdowns.
"Demand is still high but not as high," Huber said.