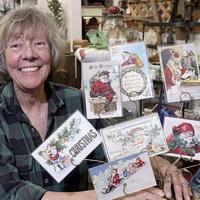 Truly unique gifts with a past are waiting to be discovered at local antique shops. | local guide
Everyone has a special memory, hobby, or quirk that could make for the perfect gift idea. It could be a childhood love for a certain TV show, a beloved vacation spot, some type of collectible, or a favorite sports team. It could also be, as one antique shop owner discovered, a devotion to something as oddly specific as donkeys.
Sherrie Welchner of Picking's Antiques in Pacific Grove discovered it two months ago after displaying a collection of about 600 donkey figurines in her store's window. For a lifetime, a woman had collected the statues and memorabilia of all sizes and colors in ceramic, wood and metal – then they lay locked away in a great-nephew's garage for 40 years after the collector's death. Welchner got the call to come see the huge collection of Equus asinus likenesses and offered to sell them on consignment.
She wasn't sure if anyone would be interested, but suddenly Welchner ushered people into the shop overflowing with donkey stories and souvenir purchases. A woman came in to say that her best friend's beloved donkey had died the day before. She chose a donkey figurine to give as a gift to her friend. Welchner has helped other gift shopping customers over the years, finding a trinket, postcard or other item that will have special meaning for a friend or loved one.
The life magazines are popular request as gifts, says Welchner. The magazine is sought after by people looking for specific issues in which someone they may know has appeared, or which matches the date of birth of the person they are buying for or a city in which they have lived or visited.
Welchner customers appreciate that the items they buy cannot be found in any other store and are not mass-produced overseas.
Welchner's advice to gift shoppers is to browse a shop, take a look, and don't be shy to ask if you're looking for a specific item or category. "Someone will come and say, 'I'm looking for something military'," and she'll lead them around the store pointing out potential items, she says. Gift buyers should keep in mind that all purchases are final, so it's a good idea to gauge how much the recipient will appreciate the treasure for years to come.
PICKING ANTIQUES is at 221 Forest Ave., Pacific Grove. 747-2175, pickingsantiques.com