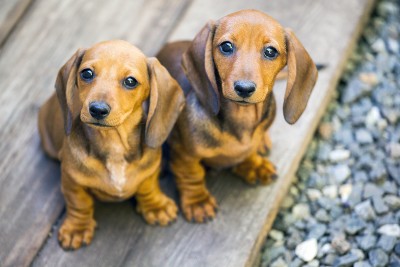 Find Unique Gifts for Dachshund Owners
The market is full of gifts for dog lovers, but did you know dachshund owners have the coolest options? From bumper stickers to floor cushions to garden flags, the list never ends.
As Dachshunds have become more popular over time, these dog owners increasingly want to show their love for these special doggos. For this reason, all of these great gift ideas are unique and designed especially for dachshund lovers.
Read the rest of this article for more information on some of the unique gifts for dachshund owners.
1. Dachshund Owner T-Shirts
Dachshund owner t-shirts are always a fun gift option because people can wear them anywhere, anytime. By the time you step out of your house, you will be receiving many compliments from other dog lovers. It's the best option when you're not sure what to buy.
2. Bumper Stickers for Dachshund Owners
Stickers are always a great gift option because you can put them anywhere. If you want to give your dachshund lover a unique gift idea that will put a smile on their face, these fun stickers will definitely do the trick.
3. Pop Art Dachshund Portrait Floor Pillow
It is different from other pillows because it includes elegant portraits made with high quality materials. These materials are brand new and durable, so you won't have to worry about them breaking easily.
4. Dachshund Parade Tote
The bag is different from other bags because it is a tote bag, which means you can use it to carry whatever you want, and lots of it. Moreover, this bag also has several pockets of different sizes so that people can easily organize their items.
5. Dachshund Garden Flag
With this flag you can show your love of dachshunds to the world! The color of this flag is black and white, making it an ideal choice for most households. You can also put these flags anywhere to decorate your garden. Moreover, this flag is also durable, so you don't have to worry about it tearing and tearing easily.
6. Dachshund Solar Lamp
What's great about this lamp is that it looks like a very realistic dachshund! This way you can feel closer to your dog even when he is not with you. Additionally, this light does not require batteries but still emits a beautiful glow at night. This way you can add a special touch to your garden or backyard.
7. Puzzle for Dachshund Lovers
Here is another unique gift idea for dachshund lovers, a timeless puzzle. Plus, it's suitable for people of all ages because, well, who doesn't love an intriguing puzzle.
At the end of the line
Finding a gift that any dog ​​owner or lover would appreciate or appreciate can sometimes be difficult. Because gifts for dog owners are becoming a thing. Don't worry, though! As you peruse this article, your search for the perfect dachshund themed gift is right before your eyes.
Brad Bernanke Story
Related