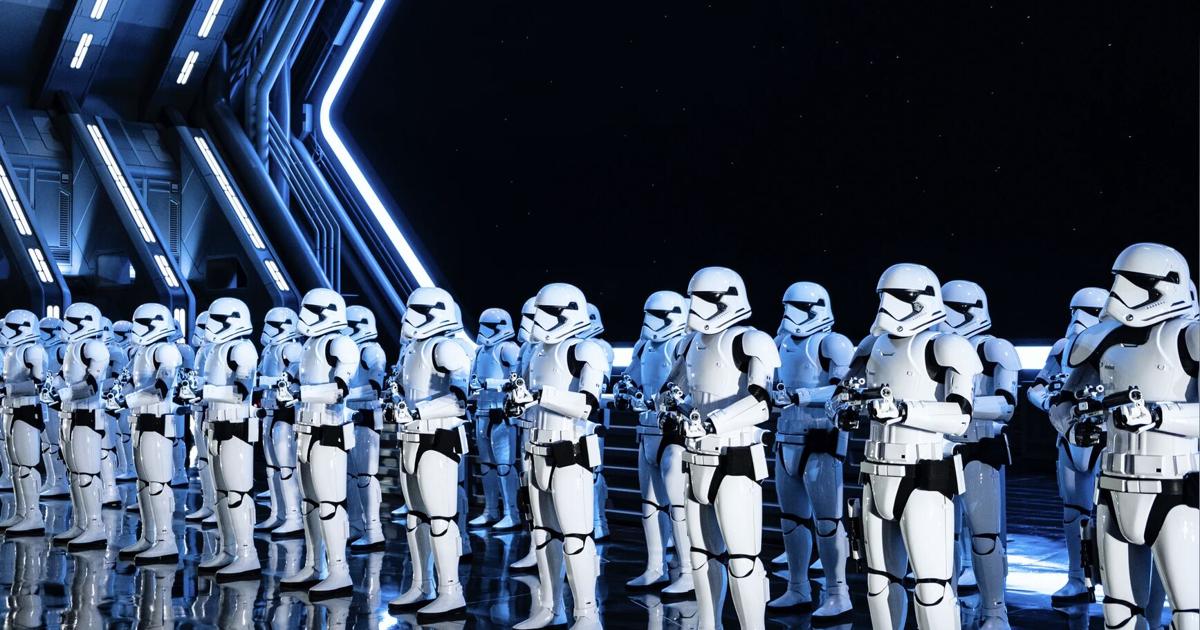 Star Wars Day is May 4: Celebrate With These Unique Gifts | Lifestyles
The following article is an associate of Okanjo, an affiliate marketing agency that helps us monetize our content. Products sold through article links allow us to receive compensation and continue to produce great content.
If you arrive at work on May 4 and your boss walks up to you wearing a Darth Vader helmet and says, "Luke, I'm your father," never fear, it's Star Wars Day! Just as this realization hits, the sandwich delivery boy quickly passes by and confirms it with a bold, "May the fourth be with you!" greet.
According to The Numbers, the Star Wars films have collectively grossed over $10.3 billion at the worldwide box office. The iconic global franchise has spawned Star Wars fan art, Star Wars fan movies, and a whole line of Star Wars toys, games, and gifts for multiple generations of Star Wars enthusiasts. Put on your brown hooded bathrobe, show the Obi-Wan glint in your eyes, and check out these gifts all the Star Wars lovers in your galaxy will love on Star Wars Day this year.
1. Transparent creative whiskey decanter with 2 glasses, 4 stainless steel whiskey stones and ice tongs, flask decanter, whiskey decanter
For the Star Wars fan who has everything, why not gift this set of transparent creative whiskey decanters? The Darth Vader themed gift comes with a Darth Lord whiskey decanter, two glasses bearing Vader's helmeted head and four food grade 304 stainless steel whiskey stones to keep your drink cold. You can also store juice, water and any of your favorite beverages in the sleek carafe. So, raise your glass and say, "Cheers!
2. LEGO Star Wars Imperial Shuttle 75302 Building Kit
Star Wars fans of all ages will have a fantastic time building the LEGO Star Wars Imperial Shuttle replica from the original Star Wars movie trilogy. With 660 pieces in all, the intricately detailed model has loads of fun features, including folding wings, stud shooters and three LEGO Star Wars minifigures: Luke Skywalker, Darth Vader and an Imperial Officer. This is a timeless construction toy that multi-generational Star Wars fans can enjoy.
3. Star Chopsticks Bottle Opener and Free Stickers Lightsaber Chopsticks
Celebrate Star Wars Day with your favorite Asian dish and this amazing set of four LED light up lightsaber chopsticks from Star Chopsticks. They are BPA free and dishwasher safe. And the bright neon colors give off a soft glow. If you're looking for ideas on May 4th, this unique set will definitely put a smile on your face.
4. MONOPOLY: Star Wars Complete Saga Edition Board Game
This cool Star Wars-inspired take on the classic real estate mogul board game features detailed artwork from all the movie trilogies. MONOPOLY: The Star Wars Complete Saga Edition board game provides hours of fun as players compete to build the greatest intergalactic empire. Players choose from nine game tokens (one per Star Wars saga film). They then collect sets of planets and droids instead of properties, and they can build on them with tie fighters and X-wings instead of houses and hotels.
5. 1art1 Star Wars Door Mat – Yoda, Welcome You Are
Let wise Jedi Master Yoda welcome your friends and family from a galaxy far, far away with this adorable Star Wars doormat featuring Yoda and the "Welcome You Are" greeting. The non-slip mat bears a Star Wars logo tag and is a 100% officially licensed item. It is perfect for decorating outdoor rooms, dorm rooms and porch.
6. Star Wars 3D Illusion Lamp for Kids, 4 Pattern 3D Night Light with Remote Control
Add the ultimate lighting effect to any room with this clever and unique Star Wars 3D illusion lamp. The soft glow of the nightlight illuminates R2D2, a stormtrooper, Yoda and the Death Star. In all, there are four models with 16 color changes and six timer settings with adjustable brightness to dim while kids sleep.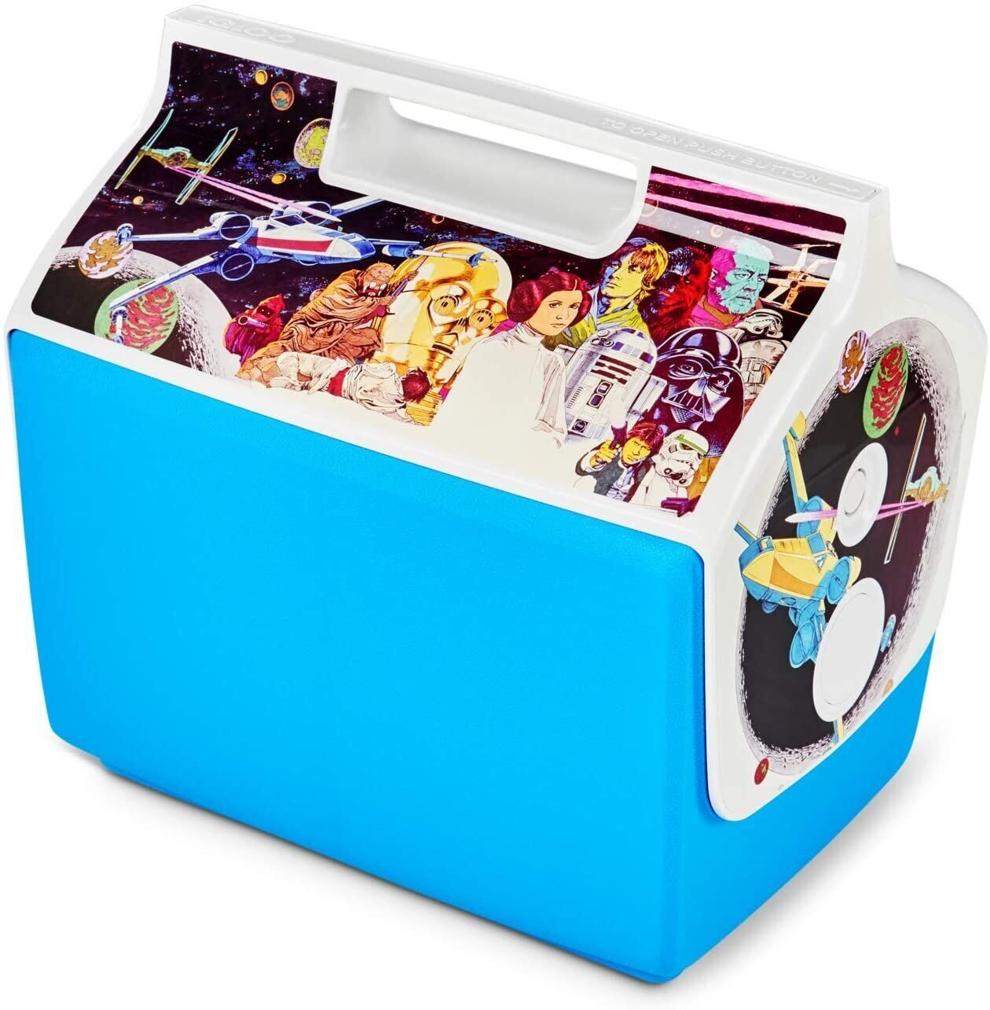 7. Playmate Igloo 14-16 Qt Limited Edition Series
Keep party drinks and food cool wherever you go to celebrate Star Wars Day with this Star Wars themed Playmate Igloo 14-16 Qt Series Cooler. The Playmate tent's lid design with push-button opening allows for easy access and additional storage for drinks and snacks. Star Wars characters and images dress the lid, including Princess Leia, Luke Skywalker C3PO Han Solo, R2D2, Obi-Wan Kenobi, and more.
8. POTS Succulent Pot, Mini Planter, Star Wars Gifts
This 3D printed Star Wars Stormtrooper Head mini POTS Succulent Pot planter is perfect for placing on a desk, table or windowsill. Use it as a Star Wars themed planter, pen holder, vase or decoration in a bedroom or office. It's creative and reasonably priced for Star Wars fans everywhere.
9. Artsy Death Star Clock
Create a stunning decorative conversation piece with this innovative Star Wars Death Star Wall Clock. Cut from a vinyl record, the clock features Star Wars characters in silhouette, including droid friends R2D2 and C3PO, a lightsaber battle between Luke Skywalker and Darth Vader, Princess Leia and Han Solo ready for action. battle, and more. The bottom of the clock bears the indelible phrase "A long time ago, in a galaxy far, far away…"
10. Lucas Star Wars/Death Star Circo Cheese Set with Cheese Tools
Every gathering is better with cheese. Make a bold Star Wars Day party impression with this Lucas Star Wars/Death Star Circo Cheese Set with Cheese Tools. The beautiful hardwood case resembles the Death Star. Essential cheese tools are hidden inside, including a "full tang cheese plane, knife/spreader, double-pointed curved knife, pointed cheese knife for hard cheeses".