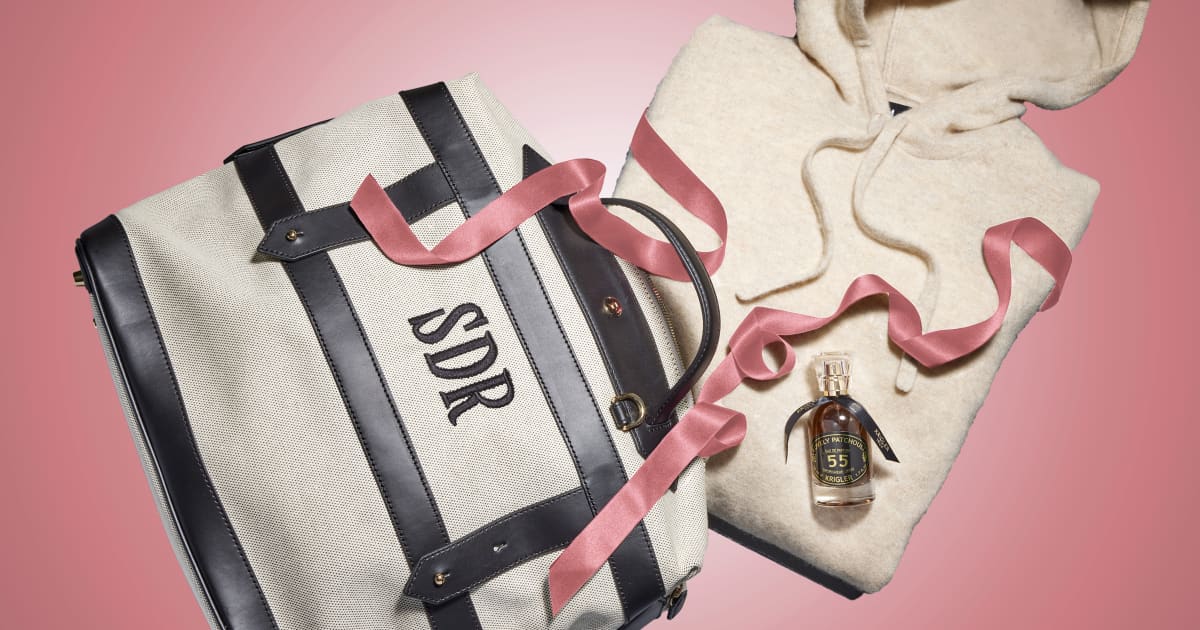 11 unique gifts for women who have everything
We all know her. Maybe she's the type to say "Oh, I don't need anythingas her birthday approaches. Or someone who always picks up what they're looking at before you get the chance. For all the women in your life who feel they can't buy, we've got the perfect gift, thanks to the pros we tapped to share their out-of-the-box (gift) picks.
For the bookworm
This isn't just any old candle gift – the mix of peach, plum and patchouli from a Stockholm-based luxury goods brand is meant to evoke the thick pages of library books. Since discovering it years ago in a department store, New York makeup artist Carolina Dali always keeps one of the sleek glass jars on her porch and another by the tub. "I love lighting this candle when I'm taking a bath or just want to relax with a good book," she says. "It creates a relaxed vibe and makes the space smell amazing."
---
For the gadget lover
Meet the new star of her garden parties. With its ability to reach 932 degrees Fahrenheit, this handy device "makes quality, flavorful pizza in less than a minute," says chef Laurent Tourondel, executive chef at his eponymous hotel brand which includes L'Amico in New York. It can also sear steaks, roast vegetables, and bake pies or flatbreads, and its compact size (just under 2 feet long)" makes it easy to take with you on a weekend adventure. ", he adds. Another advantage, according to Tourondel: the cleaning "requires little maintenance, which I love".
---
For the personal care seeker
Head space
Meditation and Sleep
Few things seem more appealing to a busy person than a moment of peace. And with a stacked library of guided meditations ranging from three minutes and longer, this app, which can be gifted monthly or yearly, delivers just that. "It's about taking time and being in tune with the breath and clearing your mind," says Sivan Fagan, a Baltimore-based ACE certified personal trainer. The options are user-friendly and tailored to different areas of stress (for example, work-related anxiety or the need to focus). This gift, she says, gives "access to follow meditation practices without having to guess."
---
For Thoughtful Types
Sugar Paper
Cards for every occasion
If she's the type who never misses a birthday or anniversary, spare her a trip to the stationery store. This set of 12 greeting cards in four different styles comes in handy when she needs a birthday card or a thank you note, "or just wants to put her love in writing," says the Los Angeles stylist . Alison Deyette. Beyond convenience, the set's fun designs and foil-printed details also strike a nice balance. "I love that they're classically elegant while still retaining a hint of whimsy," she says.
---
For the weekend warrior
5 BILLION
Double butt massage ball
Sometimes it's the little things she'll really appreciate, says Fagan, who swears by this little wonder. Made of 100% natural rubber, the five-inch tool is firmer than a tennis ball and specifically designed to target the muscles surrounding your spine. "They're super effective at relieving neck tension and relieving stress," she says. Relieving neck tension has also been shown to help relieve headaches, she adds, "so that's a huge bonus."
---
For beauty lovers
Serge Lutens
N°3 – THE BLOOD OF HEAVEN
Having used this wine-colored "most perfect lip stain" on clients of all skin tones, Dali can vouch for its versatility. The water-gel blend "is flattering all-around," the makeup artist says, and your recipient may also love that it contains hyaluronic acid to help lips appear fuller. "It lasts longer than other lip stains I've tried," says Dali, so you don't have to reapply for hours.
---
For the sophisticated
Krigler
Lovely Patchouli 55 Eau de Parfum
The set of potions produced by Krigler, a 118-year-old perfumery, are "opulent and breathtaking", according to Dali – all the scents feel like an indulgent gift – but she is particularly in love with the spicy, sweet and woody mix. it was once Jacqueline Kennedy Onassis signature perfume. "It's the most beautiful I've come across," she says of the bergamot and amber-infused creation, which interestingly takes nearly three years to produce.
---
For the night owl
She can reduce Sunday fears and dark circles under her eyes with this beauty tool that claims to be the Red Bull of face masks. "Their slogan is 'It's like an energy drink for your eyes,' and it totally is," says professional makeup artist Delcina Brown, owner of Columbus, Ohio. 614 Beauty. She suggests leaving the vegan and paraben-free product in the fridge and putting it on about 15 minutes before putting on makeup. In addition to diminishing puffiness, she notes, "it smoothes fine lines and brightens."
---
For the friend who deserves to be pampered
Naadam
Cashmere track pants
For years, Deyette browsed Naadam's 100% cashmere items without buying; she liked that the wool came directly from herders in Mongolia's Gobi Desert and appreciated the brand's commitment to ethical and sustainable production practices, but balked at the high prices, she says. When she finally bought a matching hoodie and leggings, she thought the splurge was worth it and loves the idea of ​​gifting a luxury item someone could never indulge in. "There's something a little decadent about wearing a matching cashmere ensemble when you're traveling by plane, for example," notes Deyette. "It's classic and comfortable."
---
For the jet setter
Too many lost luggage experiences have taught frequent traveler Deyette that having a carry-on bag that does double duty is crucial. The bag "should work for a weekend at the beach and fit perfectly under an airplane seat," she says. With enough space to store two days worth of clothes and toiletries along with a laptop, this 15 x 15 inch bag is both a useful and stylish gift. Crafted from recycled vegan leather and canvas made from recycled water bottles, "it elevates your travel look and is also stain-resistant," says Deyette. Not only that, but it's also customizable with hand painted or embroidered letters or even hand painted emojis.
---
For the chef who appreciates aesthetics
Staub
Enameled cast iron paella pan
Pretty enough to display on your counter, this cast iron piece is ideal for cooking paella, thanks to its shallow shape that makes it easy to evaporate liquids. but it is not the only reason Spike MendelsohnWashington, DC-based "Top Chef" finalist and restorer keep one handy; he also uses it for grilling outside and cooking over a campfire. With a rust-resistant matte black enamel finish, the cast iron skillet heats evenly and evenly, he says, and is "foolproof for chefs of all skill levels."
Any advice, recommendations, or rankings expressed in this article are those of the WSJ's Buy Side Editorial Team, and have not been reviewed or endorsed by our business partners.